The History of Netherne Printing Services
The origins of this Press go back to the famous Netherne Hospital for the mentally ill, which first opened in 1909. During the 1930's the Hospital started to introduce occupational therapy work for the patients. These activities included woodwork, needlework, rug making and basket weaving. Shortly after this, a printing press was obtained and simple forms were produced for internal use. This area of Occupational Therapy eventually lead to most of the hospitals printing requirements being provided for, and outside contracts being undertaken.

During the Second World War, the printing department made a contribution to the war effort such as the repairing and rebinding of books for the Royal Air Force.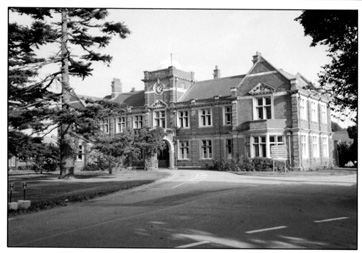 By 1956 this unit employed over 25 patients under the guidance of 6 technical staff. The department by now met all the printing needs of Netherne Hospital and other establishments of the SouthWest Metropolitan Hospital Board, as well as dealing with commercial customers. Apart from a large array of printing, guillotining, stitching and folding machines, the department even possessed specialised sign writing machinery.
From the early 1960's, there was a trend away from the large mental hospitals and Netherne began a period of decline with the subsequent contraction of the various occupational therapy units.
In 1993, Netherne Hospital was finally closed down but the name lived on when the printing department was relocated in a self-contained unit within an industrial estate in Dorking under the name of Netherne Printing Services. Under the auspices of Priority Enterprises, part of the then Surrey Oaklands NHS Trust, N.P.S. evolved into a print and finishing Social Firm, operating on a commercial basis, meeting almost all of its running costs through sales, both to the public and commercial sector.
Netherne Printing Services now continues to create full time employment for disadvantaged people as well providing therapeutic but meaningful production work for a number of trainees. Importance is attached to helping our trainees progress onto full time work where it is possible to do so.